Sekisui House embraces diversity in the workplace and aims to establish a work environment that enables everyone to reach their full potential. Efforts toward this end began in 2006 with a basic personnel policy that guides the company toward human resource sustainability, consisting of three pillars: promoting the participation of women; utilizing diverse personnel; and promoting diverse workstyles and work-life balance. We are constantly working to put in place mechanisms that help create an environment in which employees and the company can work together to achieve sustainable growth.
Action policies ①
Building a system that encourages women's participation in a broad range of areas
Management training and career development support


→ FY2022: 260 women in managerial positions
Implementing consistent measures to specifically promote women's participation
At Sekisui House, women started to be actively employed in sales positions in 2005. Today, we have 310 women in sales positions nationwide. We also have a specific policy of training young women and helping them to get established and promoting women to branch manager positions. This is carried out through regular training sessions for women and working group seminars. Since 2007 we have been holding an annual nationwide Women's Sales Representative Conference that provides motivation, helps build skills, and provides an excellent opportunity for networking. A Women's Sales Support Committee, comprised of women with a strong sales record who are capable of leading a younger generation of women, works with the heads of training at sales administration headquarters to hold regular workshops in each area. The committee has also designed a one-to-one mentoring system that gives women a chance to consult with another woman to get advice on any matters that may trouble them. The system was implemented in August 2019.
For women in technical positions, not only training specialists, we offer role models and networking opportunities through meetings like the Conference for Women as Technical Personnel. Systematic efforts are also being made to encourage more women to move into on-site supervisor positions. The Female On-site Supervisor Support Program and the Working During Pregnancy Guide are among several efforts being rolled out to create an environment that is easy for women to work in. These include the designing of hand tools especially for women and maternity uniforms for engineering employees.
Sekisui House Women's College is a program to develop female leaders that was established in 2014. Its aim is to train promising female management candidates. Every year, 20 women are selected to study in the two-year program, which offers women systematic and effective preparation for taking on a managerial position. The program is currently in its sixth term, and already 51 of the female graduates have been promoted to managerial positions. The result has been a significant increase in women in managerial positions (section manager or higher)—to 206 in FY2019 from 15 in FY2006. This means that the targets set for FY2020 based on the Act on Promotion of Women's Participation and Advancement in the Workplace were reached a year ahead of schedule. In addition to three female officers (one outside director, one outside auditor, and one executive officer) Sekisui House has brought a more diverse perspective to management by promoting more women to senior manager positions.
Since 2016, every June has been designated "Diversity Month," during which active discussions are held at workplaces to promote a deeper understanding of diversity and inclusion. In 2019, discussions were held on "surface-level (visible) diversity" and "depth-level (invisible) diversity," and each employee was encouraged to identify and state a small action they could begin to take that day. Also, on the blog written by top management* on our internal website, the president wrote about the importance of discussing diversity and the expectations he has for innovation arising from that effort, thereby raising awareness among employees even further.
A tool for communication between top management and employees that is written by four representative directors to share their thoughts and business philosophy.
Highlights: I have developed an interior proposal system and used my expertise and connections to train young coordinators
Since joining the company, I have been involved in developing and revising the Sekisui House Interior Coordination System (SHIC), which assists interior coordinators in making high-level proposals that exceed certain standards regardless of their skill or experience level.
I have also been involved in work system revisions and workstyle reforms that affect our 400-plus interior coordinators nationwide. At the same time, I have tried to create opportunities for interior coordinators to get training and to network with one another, which helps to improve their skills and build motivation.
I am grateful to the many people who have lent me their support, both inside and outside the company, and I consider the experience I have gained and connections I have developed as an interior coordinator—a job so closely linked to lifestyles—to be truly valuable assets.
Looking ahead, I want to focus on training specialists and creating proposals worthy of our vision of "making home the happiest place in the world." I want to include the perspective of business being done outside of Japan and wish to encourage the active participation of a diverse range of people in this work."
Action policies ②
Utilizing diverse personnel and allowing everyone to reach their full potential
Encouraging understanding of sexual minorities


→ Becoming an industry leader on LGBT efforts
Promoting the participation of employees with disabilities


→ Newly established Promotion of Employment of Persons with Disabilities Office
Education and policy-setting begin on gender and sexual diversity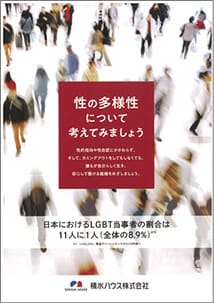 Sekisui House strives to create a corporate culture that encourages all employees to accept one another no matter their orientation so that everyone may reach their full potential and we may build a society in which everyone can feel secure and free to work in their own way. Our Corporate Ethics Guidelines state that we must not engage in any form of unreasonable discrimination based on sexual orientation or gender identity.
In September 2019 a new system was established for registering one's partner in a common law or same-sex marriage under company rules as part of our employee welfare system. The system went into effect in November last year, and a consultation desk to assist employees with questions.
In 2014, long before this system was established, we had been conducting human relations training and participating in outside events to develop and promote understanding of LGBT issues. In 2019 we created and distributed a pamphlet on how to approach gender and sexual diversity in order to promote awareness and acceptance among our employees. We also became the first housing manufacturer to be awarded a gold rating—the highest ranking—for two years in a row, 2018 and 2019, on the PRIDE Index, created by work with Pride, a Japan-based organization, which evaluates and ranks corporate efforts to support inclusiveness for LGBT employees and other sexual minorities. In such ways we have set a clear course as a company and continue to put in place measures that allow members of the LGBT community to work with greater peace of mind.
Enabling employees with disabilities to take on greater roles at work
As a company, we strive to live up to the ideal of providing lifelong housing. Our aim is to employ at least one person with a disability at every worksite, and we consider the hiring of people with disabilities to be a social mission.
We hold events that give employees with disabilities the chance to exchange ideas with their superiors; we have also established the Career Challenge System—a framework that makes it easier for employees with disabilities to transition from regional positions to career-track positions with the potential for promotions. In these and other ways we are proactively working to improve the workplace environment and enable employees with disabilities to take on greater roles.
In February 2020, we set up the Promotion of Employment of Persons with Disabilities Office, a new section in the Personnel Department.