Pursuing Customer Satisfaction through Our Value Chain Activity report ④
Strengthening our workmanship and maximizing our construction capabilities


Diverse strengths as a group


→ Improving on-site productivity through physical resources, systems, and people
Cooperation with the Sekisui House Association
The Sekisui House Association, made up of the 17 Sekiwa Construction companies and partner building contractors, cooperates with Sekisui House business offices to pursue a range of initiatives including efforts to improve construction quality, implement safety measures, beautify work sites, foster human resources, and improve work environments.
In 2019 Japan was hit by several natural disasters, including torrential rains in northern Kyushu in August, Typhoon Faxai (No. 15) in September, Typhoon Hagibis (No. 19) in October, and subsequent heavy rainfall events. After such natural disasters, we are able to take advantage of our Japan-wide network to assist with restoration and reconstruction work by having local Sekisui House Association branches send large numbers of technicians to the disasterstricken area as needed. We are responding to the increasing demand for construction by working to ensure ongoing, reliable workmanship and using our group network to the fullest.
Working to improve work site productivity
One in three construction industry workers in Japan is 55 years of age or older, and ages are rising overall. The total number of construction workers is on the decline, and how to get and train new workers, and how to improve retention rates are key issues for the industry as a whole.
The same decline is happening within the Sekisui House Group, so we are working to ensure ongoing, reliable construction management by strengthening both our technologies and our alliances with partner building contractors, while also taking steps to make the most of our existing construction capabilities. We have launched two sets of working groups–one to focus on solutions employing physical resources and the other to focus on solutions involving systems and people–to improve productivity and reduce person-hours.
We have organized a Technical Directors' Council, Construction Management Committee, and Work Site Productivity Improvement Working Group, consisting of technical deputy directors representing locations around the country, the head office, and factories. These bodies are identifying and exploring areas for productivity improvement, such as the AS Balcony, which leads to labor savings in construction by employing an integrated aluminum floor for waterproof construction, and the "β Thermal Insulation Material Search App" that speeds up searches for construction materials using an iPad.
In August 2019 we established the House Association–Sekiwa Construction Factory and Construction Committee to discuss, review, and provide feedback in response to construction site improvement requests submitted by the Sekisui House Association and Sekiwa Construction.
Our slogan for these work site productivity improvement efforts is: "Let's work as a team to steadily increase the number of houses that can be built annually." These efforts, which pool the resources of the entire company, are leading to reliable and proper construction of houses for our customers.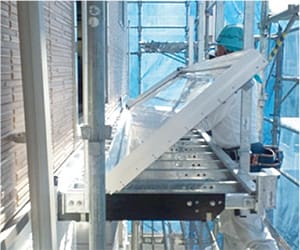 Technical training center opened in Hanoi to prepare for hiring skilled workers from Vietnam
In preparation for an anticipated shortage of labor in construction, at Sekisui House we are promoting measures that include rebuilding our construction worker database and getting recruitment support from partner building contractors.
Also, to further ensure our construction capabilities, we have begun a full-scale effort to take on technical trainees from Vietnam based on a policy of promoting diversity. In November 2019 we became the first housing manufacturer in Japan to establish a technical training center in another country with our facility in Hanoi. Explanatory meetings for families, training fees, and other expenses are all covered by Sekisui House and a supportive atmosphere is created so that technical trainees can come to Japan without any concerns. Prior to coming to Japan, the trainees learn Sekisui House's construction methods (foundation, exterior frame, interior finishing) and the company's philosophy so that they can start training when they arrive in Japan without any problems.
We also provide active support to Sekiwa Construction and our partner building contractors who take on the trainees. By 2022 we plan to employ close to 300 Vietnamese workers.