Society in Which Humans and Nature Coexist Action policies ①
Promoting eco-friendly horticulture as the largest gardening and landscaping company in Japan


Gohon no ki project → Cumulative number of trees planted by FY2022: 19 million
With 1.09 million trees planted annually, we believe urban tree planting and the Gohon no ki project are growing in importance.
Recent extreme weather events that are believed to be associated with climate change make people's lives more difficult; moreover, they can damage ecosystems.
In light of the decrease in green space due to urbanization in many parts of the world, effective greening not only supports ecological conservation but also creates leisure spaces necessary for family life while revitalizing the area. Functional greening design supports healthy lives in various ways while also storing rainwater and reducing flood damage.
However, from the perspective of ecosystem conservation, some of the horticultural and exotic trees commonly used for greening are difficult for local birds and insects to utilize. As well, those not suited to the Japanese climate often have low insect resistance.
Therefore, since 2001, the Sekisui House Group has been focused on gardening and landscaping practices that actively incorporate native species likely to be accessible to local wildlife.
Specifically, we have implemented our Gohon no ki (or five trees) indigenous landscaping project under the slogan "Three are for birds and two are for butterflies." We are now promoting this initiative nationwide to help establish a Satoyama network that supports habitats for flora and fauna in household gardens while enriching the ecosystem.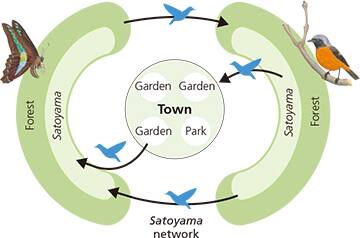 In 2019, with the cooperation of specialist researchers, we scrutinized the plant list we had compiled with the assistance of environmental NGOs, local plant grower networks, and our inhouse tree doctors. This list reflected a large amount of data on flora and fauna in order to meet market needs. It has since been updated significantly with the addition of suitable tree species.
As a result of this activity, we planted 1.09 million trees in FY2019, including those planted under the Gohon no ki project. The cumulative number of planted trees since the start of the project in 2001 has reached 16.11 million.
Enhancing communication through tree identification panels
After completing development of a system providing detailed planting data for each residence, we have promoted the adoption of communication tools that allow homeowners to enjoy growing plants with greater interest after delivery.
In June 2018, we updated our tree identification panels. These are popular for their smartphoneaccessible QR codes, which allow one to easily pull up garden data throughout the four seasons. The available information includes tips on plant flowering, fruiting, and autumn leaves as well as pruning information. The adoption rate has expanded to about 80% nationwide, with a total of 310,000 ID panels issued to date.

Scan the QR code at right to view some of the actual tree planting information. You can also listen to the songs of wild birds who are attracted to these trees.
Attractive greening for rental properties
For rental properties where profitability is emphasized, treeplanting is commonly disregarded as just another additional cost.
However, at Sekisui House, we are actively developing properties that showcase landscape design. We have branded these properties Sha Maison Gardens in the belief that beautification over time resulting from proper landscaping improves the asset value as well as the attractiveness and appeal of a property through the years. As a result, we have developed what we call the Five Environmental Premiums to enhance these landscapes from various perspectives: ① Harmony with the city's appearance, ② Preservation and restoration of the natural environment, ③ Consideration of environmental impact, ④ Design for comfort and ⑤ Design that contributes to safety and security. Each of these items has its own rigorous evaluation criteria, including quantification and visualization to contribute to a pleasant living environment. These items encompass the site, the surrounding environment, and the building itself. We further tightened these standards in fiscal 2019 and supplied 1,691 Sha Maison Gardens buildings containing 16,623 dwelling units, which represents 46% of the target. We intend to increase this to 70% of Sha Maison Gardens complexes within three years.
Expert assessment of our initiatives
Eco-friendly gardening and landscaping activities
Practicing urban ecology through the Gohon no ki indigenous landscaping project
Initiatives intended to protect the natural environment, which are highlighted in the SDGs, are attracting attention. From the standpoint of scientists studying biodiversity and ecosystems, it is important to witness the actual effectiveness of various actions. In the case of private enterprises in particular, initiatives targeting achievement of the SDGs are not sustainable in themselves if it is not clear how much a particular initiative contributes to the achievement of a conservation goal, or how efforts related to the initiative will contribute to improved corporate value.
The Gohon no ki indigenous landscaping project adopted by Sekisui House recommends the selection of residential garden trees under the belief that "with native trees in Japan, three trees are for birds and two are for butterflies." In other words, the Gohon no ki project is based on a commitment to conserve and restore local biodiversity, and its effectiveness can be quantified from the perspective of Goal 15 of the SDGs, which is focused on maintaining the health of the land.
According to the big data biodiversity analysis by Kubota Laboratory, the Gohon no ki garden tree proposal covers 30–45% of the woody species that grow naturally in Japanese prefectures. The high coverage of tree species diversity from the planting of garden trees is noted for its effect on the regeneration and conservation of the biological communities that form the foundation of terrestrial ecosystems. It is worth noting that a cumulative total of more than 16 million trees have been planted since 2001 under the Gohon no ki project. According to our analysis, the number of trees in Japan is estimated to be at least 20.9 billion, and the number of trees in the forests and green areas remaining in urban areas, where 70% of the population of Japan is concentrated, is 39.05 million tall trees as well as small shrubs. Thus, the number of urban trees is only 58.88 million. Therefore, the large number of trees being planted in residential gardens under the Gohon no ki project will be an outstanding achievement in terms of the natural regeneration of the city. The planting of garden trees will also have the effect of strengthening the carbon dioxide sequestering function of the city, which contributes to the mitigation of climate change.
The ecological design of residential gardens under the Gohon no ki indigenous landscaping concept is not limited to enriching people's living spaces through their functionality in terms of scenery and healing. The gardens that people love may be very small, but garden trees provide space for the growth of a variety of organisms, and each garden functions as a link in a network to regenerate urban ecosystem services. This has the potential to regenerate the practice of urban ecology. The planting of garden trees under the Gohon no ki project may represent one solution to our global environmental challenges.