Pursuing Customer Satisfaction through Our Value Chain Action policies ①
Creating safety, security, comfort, and health by integrating tangible (technological development) and intangible elements


Flexible ẞ System employed for greater design freedom


→ Expanded choice for urban houses
Construction method to resolve urban architectural issues
Since the company's founding, Sekisui House has been creating high-quality housing that offers safety, security, and comfort through the use of advanced technologies developed through R&D initiatives addressing both tangible and intangible elements. In 2017 we developed the Flexible ß System using all of our design and technological strengths as a new method for building three- and four-story houses to meet a wide range of urban architectural needs.
The Flexible ß System employs heavy-gauge steel for the columns and beams of a structure to greatly increase design freedom and the ability to create spatial solutions. The system can now be used for detached houses, rental housing, dualuse commercial/residential buildings, and houses designed for the elderly, as well as nursery schools, hotels, hospitals, public facilities, and other non-residential buildings.
To accompany technological development, one pursuit in the area of intangibles is our happiness research. We conduct research on topics related to the feeling of being fortunate, including good health and connection to family. Sekisui House has established unique strengths through this integration of tangible technologies and intangible feelings.
One result of such endeavors has been new ideas for a non-housing business area of Sekisui House–building nursery schools. In areas with growing demand and not enough facilities, we built nursery schools, four of which won the Kids Design Award from a METI-affiliated NPO. We have been able to apply our expertise in building houses to childcare facilities, thereby supporting children's healthy upbringing and facilitating the working lives of childcare workers, parents, and guardians. In addition, the openexterior designs help to integrate the nursery schools into their communities.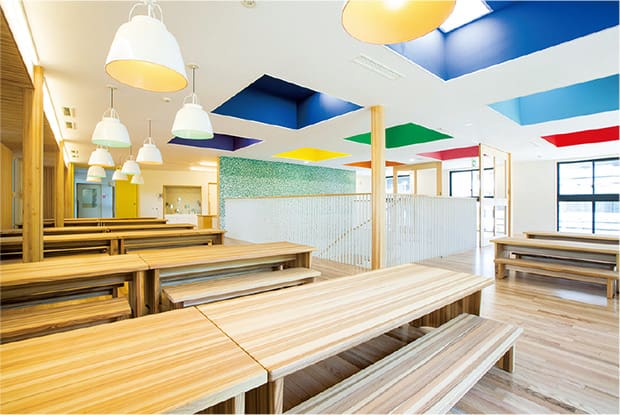 Regnum Court New Ideas for an urban house
The Regnum Court brand was released in October 2019– three- and four-story steel-frame detached houses for urban settings designed using Sekisui House's Flexible ß System. This system eliminates the through pillars to provide greater freedom in designing the layout of each floor, the size and position of windows, etc. A variety of wall and window design possibilities can provide a sense of openness while protecting privacy under a range of unique conditions. A bright, large living space can be created with large openings to bring light, breezes, and greenery into the interior space. The residents can feel nature as part of the enjoyment of their lifestyle and pursuit of their interests. These new choices are attractive even to people who might prefer living in a tower condominium. Our original super-insulating resin-aluminum composite sash (SAJ sash) provides higher performance than ordinary resinaluminum composite window sash, while the entire house itself is highly insulated and compliant with Japan's Net Zero Energy House (ZEH) standards.
Backing the emergence of Regnum Court is Sekisui House's happiness research. The concepts used in Regnum (which means "kingdom" in Latin) grew out of this research as ideas for an affluent population and people who take special care in designing their living environment. The completion of a well-designed house on a land site that offers one-of-akind views in which you have family connection and can enjoy getting together with friends–that kind of place we see as a kingdom, which is the basis upon which Regnum Court was developed.