Human Resource Development
At the Sekisui House Group, we put significant energy into optimizing our personnel systems and helping employees to develop their skills. Our focus is on fostering independent thinking—we want employees who are able to innovate and communicate. Our in-house educational systems are designed uniquely for both management and player ranks, and we conduct training systematically to enable all employees to reach their full potential and help us fulfill our role a sustainable company that contributes to society.
Action policies ①
Promoting reforms through a Human Resources Development Office
Fostering the next generation of business leaders


→ Working to implement management strategy
Systematically discovering, handpicking and fostering the best talent
Our new Human Resources Development Office, which was established within the Personnel Department on February 1, 2019, systematically trains and selects personnel for advancement, creating medium- and long-term HR portfolios to implement the group's management strategies. The office was established with the mission of developing human resources strategically from an HR perspective with a clear view toward the future, in much the same way as top management employs a business strategy.
Of the many issues it addresses, a central focus of the Human Resources Development Office is to establish a pipeline for individuals with a talent for business, training them systematically to take on roles as the next generation of business leaders.
Following after the launch of Sekisui House Management Training in 2018, we launched the SHINE! Challenge Program in 2019 to help train young leaders.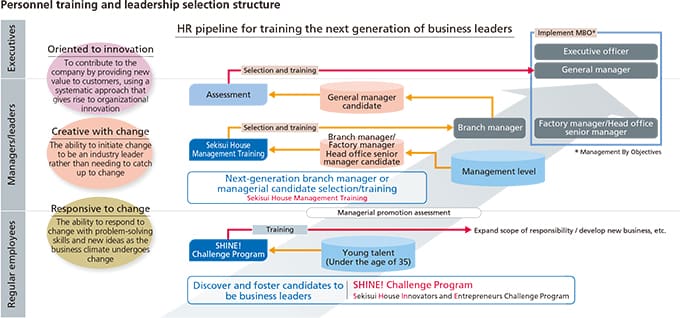 Action policies ②
Discover talent with high potential early and train them
Selective training at each level

→ For branch manager candidates and young employees
First Sekisui House Management Training completed
The Personnel Department (and Human Resources Development Office) are systematically training future leaders at each level—candidates for the positions of general manager and executive officer, candidates for branch managers, and young leader candidates.
The Sekisui House Management Training held in November 2018 had 35 participants. The program's objective is to train and select candidates to become the next generation of branch managers in the Sekisui House Group. Through this training, participants have remarked that their connections at the company had expanded and they had become able to see issues now from a management perspective. The first training session will end in June 2020 and a second session will start thereafter.
The Sekisui House Management Training program emphasizes learning how to expand one's conceptual thinking and boundaries as a human being. Participants get a broader education in liberal arts (including medicine and philosophy), plus exposure to new fields of knowledge such as innovation and digital transformation (DX). They learn financial accounting, engage in concept work, and expand their knowledge in many areas, all of which eventually plays a part in branch management strategy.
Start of the SHINE! Challenge Program
SHINE stands for "Sekisui House Innovators and Entrepreneurs." This program, begun in October 2019, is designed for training young employees (30 to 35 years of age) who show leadership potential. The goal of the program is to discover, train, and foster talented individuals early on to produce strong candidates for leading the business into the future. The first implementation of the program has 15 participants.
The focus of the training is on the Sekisui House vision for the future of its business and planning for how to achieve that vision. Participants gain the business knowledge they need and a heightened perspective by learning action planning, which teaches them how to explore issues they set themselves and how to take action on them. The program invites people from outside the company in to provide stimulation and the chance to learn what it takes to be a business leader. The program has invited young people who have started up venture businesses in the Tohoku region as part of earthquake and tsunami recovery efforts to speak about their work and designers working in a global setting to discuss the future of housing. We plan to expand the program to cover additional employee levels in the effort to establish a company-wide pipeline for business talent.
Introducing "microlearning" to train young people in detached home sales
At the Sekisui House player level, training for young people in the area of sales of detached homes previously lasted three months. Now, with the implementation of microlearning (video-based study using any device), the training program has been extended to three years and we have just entered the second year. This system allows each employee to watch videos at a time and place of their choosing, and to report back to their superiors on what they learned as part of a feedback process. Much less time is spent gathered together for training than previously, and we hope that this promotes more efficient learning.
Activating senior personnel
We are carrying out recurrent (continuing) education as part of the company's efforts to further train and utilize personnel of a higher age. We started providing middle-career training to personnel at the age of 45 or over six years ago. We offer seminars on pensions for those who reach the age of 60, and other types of education, and plan to take further measures to give employees the motivation to work late into their career.