International BusinessAustralia
Offering eco-friendly housing in preparation for growth in housing demand
Australian Government statistics suggest that significant population growth is expected in the future, and we expect increased demand for sustainable housing. We have established a SHAWOOD factory in the suburbs of Sydney and have introduced a repetitive production system for high-quality building materials. Furthermore, we have constructed Shinka House, a ZEH-compliant pilot house equipped with solar power generation and storage batteries, in The Hermitage, a residential housing development on the outskirts of Sydney.
In addition to offering an environment-friendly lifestyle that reduces energy consumption, it serves as a platform for promoting the improved quality of housing that we provide to our customers.
The Central Park Project, recognized as the world's tallest skyscraper
Construction of Central Park, a development complex in central Sydney, has been under way since 2011 with our joint venture partner, Frasers Centrepoint Limited. The concept of "environment-friendly development" has been thoroughly implemented here; for example, a large reflector is used to direct natural light to the lower part of the building in order to reduce the power consumption needed for daytime lighting. In addition, by adjusting indoor temperatures with the largest green wall in the Southern Hemisphere, the project reduces CO2 emissions. It also introduces eco-friendly water reuse facilities. With exterior features such as greenery on the walls, a garden on the 29th floor, and a huge reflector, the condominium earned the world-famous architectural award known as Best Tall Building Worldwide in 2014 from the Council on Tall Buildings and Urban Habitat (CTBUH). Moreover, in 2019, at the CTBUH Awards, this project received the world's highest award for Urban Habitat District/Master Plan Scale, as both the building and surface development were evaluated as "best in the world" in both name and reality.
We have received various other awards recognizing our achievements in improving local security, and we received the highest evaluation under the Australian Environmental Standards.
Strong demand for housing due to population growth
Much room for quality improvements in the existing housing market
Soaring electricity bills resulting from liberalization of the electricity market
Constructed an Australian version of the SHAWOOD factory near Sydney.
Established a repetitive production system for highquality building materials.
Constructed Shinka House, a ZEH-compliant pilot house.
Human resource development aimed at global expansion of our domestic business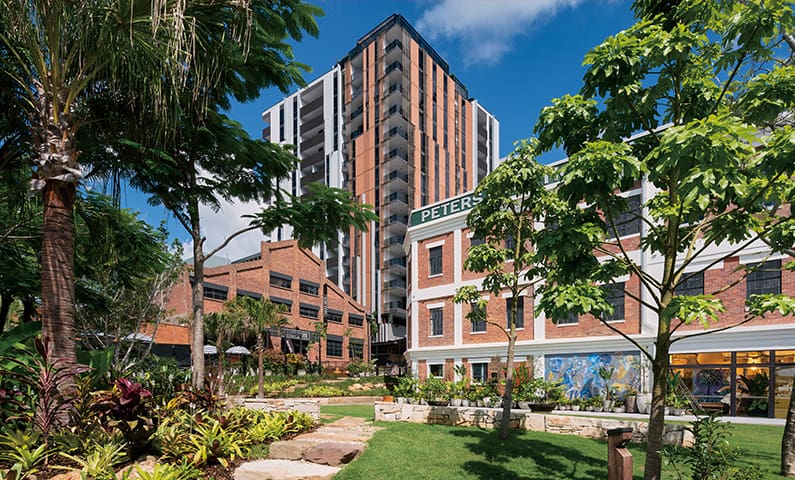 In Australia, we assist local employees and industry groups in understanding our corporate philosophy by inviting them to Sumai-no-Yume-Kojo Centers, Nattoku Kobo Studio (Home Amenities Experience Studio), and Sekisui House Eco First Park in Japan. The Gohon no ki indigenous landscaping project (highlighted on page 25) has been incorporated at each project, and the Satoyama concept has been adopted in various parts of our local projects, both of which have been well received by local customers. Similar initiatives are being undertaken in each country in which we operate, and participants who visit these facilities retain and bring back what they have learned in Japan, adapt it to their cultures and climates, and implement it.
Promoting diversity initiatives in other countries
Our Australian subsidiary promotes diversity, with females filling 50% of the employee positions and about 6% of the managerial positions. The company has also instituted an extensive promotion system for managers that focuses on individual abilities.
In addition, in order to support the social advancement of women and the development of the next generation, West Village has partnered with the Property Council, a real estate industry group, to explain our initiatives in Australia and introduce local high school students to the town development and housing development field. This program, known as "Girls in Property," is contributing to the promotion of female participation in the male-dominated real estate development field and the construction industry.