Contributing to Health, Longevity and Wealth

Since its founding, the Sekisui House Group has focused on supplying houses of high quality that are safe, secure, and comfortable. In response to changing times, we have worked to develop construction methods that make homes highly resistant to natural disasters, with a focus on comfort and environmental considerations. Over the coming 30 years, as the era of the 100-year lifespan comes to the fore, in the quest to build "homes for happiness" we aim to apply the emerging fusion of tangible and intangible products and services to social issues. We plan to utilize technical resources developed in Japan, a country with an aging society and a long-lived population. Our aim is to bring these new services to the global marketplace to address social issues and contribute to fuller living.
Action policies ①
First initiative to build in-home early illness detection network for "houses that support good health"
Supporting Health and Longevity through the Platform House Concept


→Development of HED-Net (In-Home Early Detection Network)
What is The Platform House Concept?
Our global vision at Sekisui House is to make the home the happiest place in the world. The Platform House Concept was developed and announced in 2019 based on this vision. The concept encompasses systems that will support the health and happiness of residents of the houses we build as we enter the era of 100-year life.
The Platform House will have a range of services installed that promote health, connection, and learning–a new concept that utilizes data from residents to enable active living to and beyond the age of 100.
Good health, social connection, and opportunities to learn become intangible assets for residents. Sekisui House aims to develop services that offer and promote these intangibles through business models.
The Platform House Concept proposes the home as not only a place for settling down but as a launchpad for new departures. Vitalized by good health, a sense of connectedness, and the stimulation of learning, residents become motivated to engage in new endeavors to reach their full potential. This launchpad concept is embodied in our use of "platform."
Our first initiative is centered on health–the foundation for "houses that support good health." This initiative involves offering services that provide medical emergency response, health monitoring over time, and preventative care.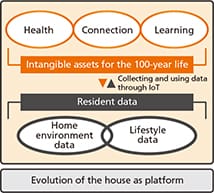 HED-Net addresses issues in a healthy, long-lived society
The first initiative in the Platform House Concept is the world's first in-home early detection network, HED-Net. It is estimated that approximately 70,000 people in Japan die each year in their homes from an incident that involves either a stroke, heart failure, drowning, or a fall or collapse–a far greater number of deaths than are due to traffic accidents (about 3,500/year). Strokes occur in approximately 290,000 people annually in Japan; 79% of the time they happen at home, and about 150,000 people die at home without help.
When people suffer from a heart attack, 66% of the time it occurs at home, while over 5,000 people annually drown at home, often in the bathtub. Falling or collapsing in the home accounts for approximately 3,000 deaths annually.
Traffic accident deaths have declined with the advent of airbags, anti-lock braking systems, and other automobile safety features. However, little has yet to be done anywhere in the world to combat accidents in the home or to provide early detection of a medical emergency. In the case of a stroke, a person needs to get treatment at a hospital within four and a half hours from the onset of the stroke to prevent death or long-term damage. It is clear that how quickly a person is found holds the key to their treatment and recovery. We began research and development on the HED-Net system to address this specific issue.
Medical condition detection through non-contact sensors eliminates residents' stress
The sensing technologies installed in the home, integrated with the HED-Net system, detect and analyze a resident's vital data such as heart rate and respiration rate. The key feature of this system is the use of non-contact sensors, which cause no stress to the resident. If a possible medical emergency is detected, a medical alert is sent immediately to the emergency call center. The operator then calls to confirm whether there is an emergency or not, and if so, dispatches an ambulance. When the paramedics arrive, the resident's door can be unlocked remotely and locked again afterward.
This is the first system in the world set up to cover every step from vital sign detection to paramedic rescue. It can reduce the social cost (medical/nursing care costs, etc.) from accidents in the home by as much 1.9 trillion yen.
As countries around the world, including Japan and other developed nations, face significant challenges ahead in terms of "closet caregivers" for an aging population, there will be a growing need to find ways to cope with the issue. In Japan, strokes account for 18.5% of cases where people start requiring nursing care*. Sekisui House believes that the Platform House Concept can help reduce the number of people who need care, as well as the number of workers who leave their positions to care for an elderly family member.
Ministry of Health, Labour and Welfare, FY2013 Comprehensive Survey of Living Conditions
Pilot project to begin in 2020
To research and develop HED-Net, Sekisui House is partnering with academic institutions and other corporations with fieldspecific expertise to build a broad alliance. Patents have already been obtained for systems to be used in Japan, and international patents are pending.
Following proof-of-concept tests at the Platform House Lab and verification tests at our testing facility, the system will be rolled out in a resident-participation pilot project in 2020, soliciting 30 to 50 households to join. This pilot project will bring the technologies closer to people in real-life situations with the aim of full-scale social implementation in the future.
Furthering the concept by monitoring changes over time and in-home prevention
Starting with HED-Net's early detection of a medical emergency, further development will involve monitoring changes over time and in-home prevention.
It will be possible, for example, to detect apnea syndrome from data acquired on breathing while asleep. Or, sensors installed in the bathroom sink mirror will be able to detect high blood pressure or other symptoms monitored over time, thereby allowing the early discovery of illness through risk detection. It then becomes possible to develop services that prevent the risk of illness–including exercise, good sleep, and diet services. Beyond health, services can be installed in the areas of social connection and learning, thereby promoting happiness in the home for the era of 100-year life.
Highlights: Homes for happy living in the era of the 100-year life
Exhibiting at CES 2020
The Platform House Concept, First Initiative: The world's first in-home early illness detection network–HED-Net presented at CES
The world's largest consumer electronics show, CES, was held from January 7 to 10, 2020 in Las Vegas, USA. Sekisui House presented HED-Net, the world's first in-home early illness detection network, at the show.
HED-Net protects people and prevents delays in treatment
If you were at home alone and suffered a stroke or other acute medical condition, who would find you?
If you ever have a stroke, heart attack or accident in your home, the most important thing is to be found quickly.
At CES 2019, Sekisui House announced the Platform House Concept as a new project to provide services for promoting health, connection, and learning in the home in order to bring people happiness in an age when they are living to the age of 100. HED-Net is the first extension to the plan, announced a year later.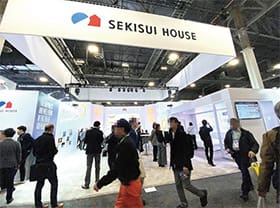 Working to resolve near-future issues that the world will face
At the press event held on January 7, 2020, President Nakai explained how the realization of the Platform House Concept could lower social costs, including medical and nursing care costs, and that such a development could be very useful in solving social problems of the near future for a super-aged society like the one in Japan as a model for the world.
Mr. Ishii, the Senior Manager of the Platform House Promotion Department, shared his thoughts on developing services for residents who "are concerned primarily with living as they always have, which is why we insist on contactless sensors that can pick up readings and analyze data in a stress-free way without infringing on residents' privacy."
"This is a long-term, 30-year plan. Over the next three decades we will be working to refine the concept and implementation of homes for happy living in the era of the 100-year life," said the president. The idea of a plan to bring about happiness through the home environment drew great interest at the show.
Approximately 6,600 people visited the Sekisui House booth over the four days of the show, sharing such opinions as: "I think the homeowner can be happy and feel safe and protected, which is great!" and "This may be just a future scenario, but it would be great if it could be possible right now!"
Sekisui House will continue to conduct pilot tests and pursue research and innovation using advanced technologies in the effort to bring the Platform House Concept into widespread use.

Action policies ②
Happiness research to produce abundance
The fusion of structural technology development and happiness research


→ Diffusion and promotion of the Family Suite model
Happiness research leads to development of the Family Suite model
The Family Suite model, brought to market in October 2018, is the product of Sekisui House's research into technologies and services for happiness, developed and deployed in structural areas to support happy living. The Family Suite model proposes a new kind of living space that departs from the conventional "LDK" (living-dining-kitchen) concept to enable families to spend a rewarding time together in whatever way they choose.
According to Sekisui House's research survey on happiness, families with parents and children highly value the time they spend all together in the "family hearth." Even though everyone is spending a long time together in the living room, each person is doing their own thing and relaxing in their own way. When you have one large, undivided living room space, everyone can maintain a comfortable distance from one another while feeling each other's presence. This creates a sense of togetherness that makes a family feel happy. It is the concept behind the Family Suite model, and a key takeaway from the happiness research.
In April 2019, we started offering this Family Suite model to customers irrespective of the type of construction (steel or wood frame) or interior/exterior design variations. The concept is to provide a broad range of choice leading to more relaxed lifestyles for families by creating a spacious living room area that includes an extended area under the eaves. The design promotes happiness in the form of connecting with one another, living in one's own style, and maintaining good health.
Since its launch, the design concept has won accolades among a great many happy homeowners who appreciate that family communication can be maintained as everyone naturally gravitates to the living room because it is so pleasant there.
Further research on houses where happiness grows the longer you live there
In August 2018, we opened the Human Life R&D Institute to pursue the happiness research that started with research to develop the Family Suite model. Sekisui House thus became the first Japanese company to study happiness. In building homes, it is vital to consider changes in the homeowner's life and lifestyle over time. With a broad view of the human lifespan reaching 100 years, we refocused on the importance of building homes that take an extended timeline into full consideration.
The Human Life R&D Institute has been pursuing research in a wide range of areas related to home living based on the theme of "houses where happiness grows the longer you live there." Attention is being focused on research themes that involve happiness, such as the intangibles of health and familial bonds, in addition to the ongoing research themes of safety, security, and comfort. The goal is to use the research results in designing "happy houses" that promote a sense of well-being and allow its residents to experience greater happiness the longer they live in their home.
In 2019, we adopted the principles learned through the research in new offerings such as Family Suite Renovation work on existing houses and the Regnum Court model houses that propose a new style of comfortable urban living.
Kobayashi-sanchi is a model house in Sekisui House's Sumai-no-Yume-Kojo Center in the Kanto region. The model house includes new ideas for the use of space by families with a baby derived from happiness research related to design for kids, such as a bedroom that promotes good sleep for parents and child, and baby-care-friendly water areas in the home.