International BusinessUnited States
Applying Sekisui House technology: Responding to the various natural disasters that can occur in large land areas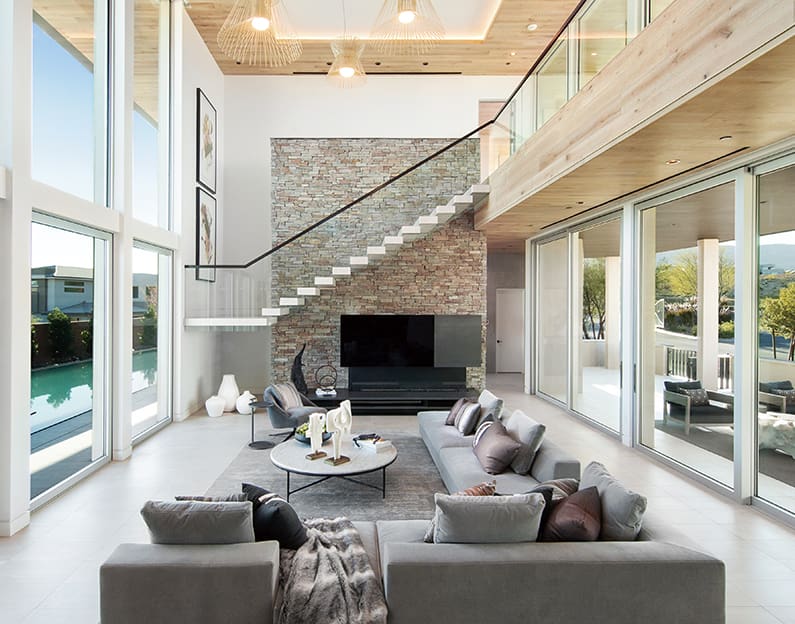 In the U.S.A., demand for housing is projected to grow over the coming decades, with balanced population growth expected across all ages. Due to the large land area of the United States, different regions focus on different issues. In recent years, problems associated with climate change, such as the shifting paths of hurricanes, have become apparent. In addition, the West Coast of North America is exposed to a high risk of earthquakes as well as frequent power outages in light of the numerous major earthquakes that have struck the region in the past. While traditional wooden houses represent the mainstream for dwellings, houses constructed with high resistance to earthquakes, fires and impacts are required to minimize the devastating effects of natural disasters and global warming.
Strong demand for housing due to high population growth
A population motivated to fight global warming due to possibly related occurrences, such as shifting paths of hurricane
A high risk of powerful earthquakes along the West Coast of North America
A need for ongoing maintenance of building exteriors
Acquisition of Woodside Homes and expanded collaboration efforts
Transplanting of Sekisui House technology
Construction of SHAWOOD, which is built to ZEH standard and features high seismic resistance
Introduced Bellburn ceramic wall product
Adopting ZEH standards across the U.S.A. from California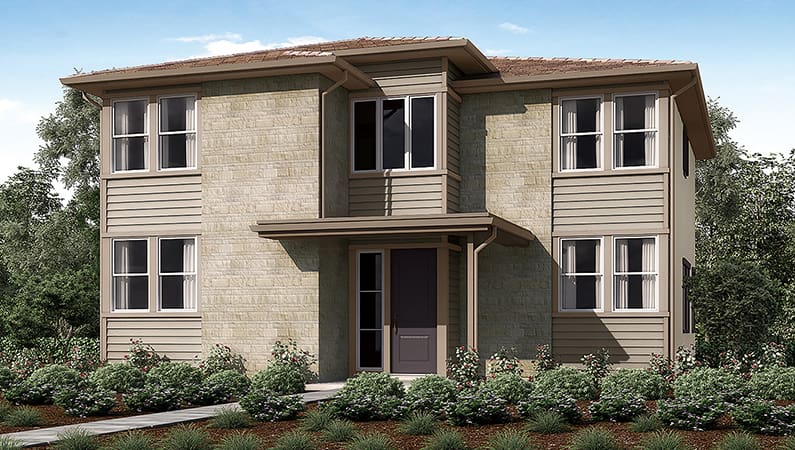 California is an environmentally advanced state that has been proactively adopting environmental regulations. Reductions in greenhouse gas emissions have been legislated, and legislation requiring new homes to be equipped with photovoltaic panels was introduced in 2020, marking the first time such a policy has been adopted in the United States. Our subsidiary, Woodside Homes, is strengthening the development of environmentfriendly and lifestyle-oriented products to promote zero net energy housing (or ZNE, the industry term in the U.S.A.) in line with revisions to the state's environmental and energy-efficiency standards for buildings. We are providing ZEH housing as a foothold for popularizing this innovation in the United States, and we are planning to introduce environment-friendly urban developments in the future.
Development projects focused on biodiversity
Canyon Falls, a community development project in Texas, was developed with a view to preserving biodiversity; specifically, it is focused on protecting the habitat of post oak trees, some of which are 120 to 150 years old. It is considered difficult to preserve post oak trees when developing the surrounding land, as this tree species is known for its delicate roots. However, the post oak trees in this area have continued to grow even after the development was completed. At the end of 2018, Canyon Falls was presented with the Tree of the Year Award from the town of Flower Mound in Texas.
The first SHAWOOD concept home in the U.S.A. was unveiled at IBS 2020.
In January 2020, we participated as the first Japanese house builder to exhibit at the International Builders' Show (IBS), the largest U.S. trade fair for housing, held in Las Vegas.* In addition to hosting an exhibit at our booth, we constructed a SHAWOOD concept home (an original wooden house design of Sekisui House) in the Summerlin area of western Las Vegas and opened it to the public. This marked the debut of the SHAWOOD house in the United States, and interest was very high. This also represented a valuable opportunity for us to convey our commitment to making a better society through housing.
The SHAWOOD brand, an initiative intended to resolve housing issues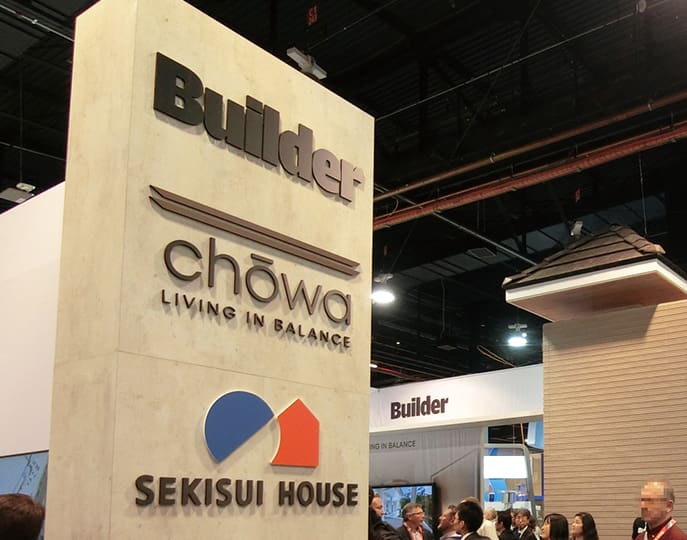 The SHAWOOD Concept House is a structure built to the ZEH (Net-Zero Energy House) standard that offers high earthquake resistance and photovoltaic power generation capability with storage batteries. It is constructed with fireproof and low-maintenance Bellburn ceramic exterior wall material. This concept home earned high praise from participants, as it demonstrated a path to resolving some of the social issues facing the United States. It was designed to address the issues of life balance, connection with nature, symbiosis, and the design seeks harmony between Eastern and Western living customs, the concepts of indoors and outdoors, and a balance between technology and privacy.
By showcasing these technologies in the United States, we seek to provide helpful solutions. We will continue to promote the adoption of the SHAWOOD concept in the United States, incorporating sales methods that offer health and a choice of lifestyles.
Our research of various display materials suggests we were the first Japanese housebuilder to exhibit at IBS, an annual housing fair that attracts more than 85,000 participants involved in the construction industry as well as institutional investors from around the world. Our concept home was an actual real-life exhibit presented by one selected company. We constructed it in collaboration with Woodside Homes.
Highlights of the SHAWOOD Concept Home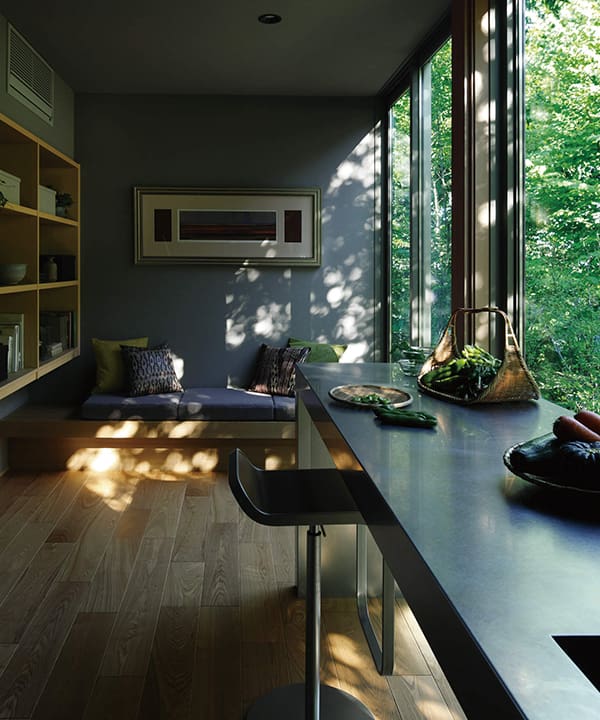 Bellburn
Clear view design
Broad horizontal roof design
Structural laminated wood
Metal joint construction
Earthquake resistance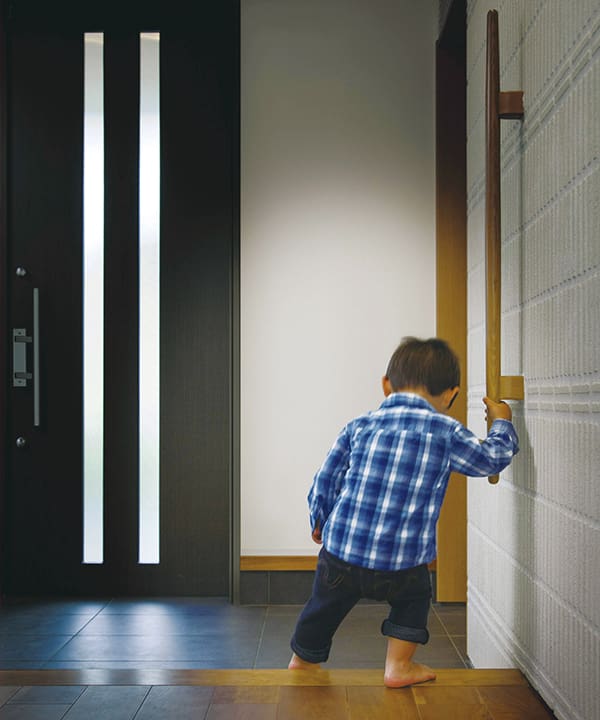 Net-Zero Energy House standard
Smart UD
Fresh interior air