Workstyle reforms to stimulate innovation are essential for a company to grow sustainably in times of diversifying life values. Such reforms include reassessing work-life balance in an era of 100-year lifespans and efforts to secure a proper workforce when the population is aging and in decline due to dropping birth rates. Based on the key phrase "innovation & communication," we are taking steps to promote good health management and create a workplace environment that allows every employee to work with peace of mind and reach their full potential. We have also created a support system that allows individuals to work while taking care of a child or an elderly person, or getting treatment themselves for a medical condition. These are workstyle reforms that go beyond past efforts to stimulate innovation.
Action policies ①
Paid childcare leave for men ("Ikumen Leave") to create a new norm for society
Start of Ikumen Leave system


→ 100% of eligible male employees take a month or more of childcare leave
All eligible male employees take parental leave for at least one month
As a company that promotes Kids-First initiatives, in September 2018 Sekisui House launched a special childcare-leave program to encourage male employees with a child or children under the age of three to take at least one month off work to focus on childcare (dubbed "Ikumen Leave"). For both male and female employees, leave is paid for the first month, which can be divided into as many as four stretches of time to adapt as needed to one's individual circumstances.
Since the program went into effect, the company has made a concerted effort to encourage all eligible male employees to take advantage of the system. In the year from February 1, 2019 to January 31, 2020, a total of 415 male employees with a child or children under the age of three took advantage of the paid leave system–100% of the eligible individuals.
As Japan's rate of male parental leave stays flat, Sekisui House not only has a policy of male parental leave, but educates through forums and encourages the full use of the system through tools and various incentives. We make available on our website a "family meeting sheet" that facilitates a dialogue between partners on such issues as determining when to take the leave and what tasks each person will take care of in the home during the period of leave.
Ikumen Forum 2019 was held on September 19 to discuss how the promotion of male parental leave can help build a better society. Sekisui House then designated this day of the calendar, "Think About Childcare Leave Day." We conducted a nationwide survey on childcare leave and released the results as the Ikumen White Paper 2019 (based on data from 9,400 fathers and mothers in their 20s to 50s across 47 prefectures).
We will continue to gather feedback from employees who take Ikumen Leave and study how men's sharing of childcare and household duties encourages women in their career development and impacts workstyle reform efforts. When the results are in and analyses completed, we plan to make the results public to encourage widespread application in society at large.
Highlights: Dialogue between the ambassador of Sweden, world-leading country in male parental leave, and Sekisui House President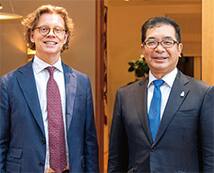 The idea for the Ikumen Leave system originated four months before the system was put into place when President Nakai visited Sweden for matters related to investor relations. Walking in the parks and on the streets there, he was astonished to find that most baby strollers were being pushed by men.
President Nakai related the story to the Swedish Embassy, and this led to a dialogue on the topic in January 2020 with Swedish Ambassador to Japan Pereric Högberg. The two sat down to discuss the encouragement of male employees to take childcare leave and workstyles that promoted happiness.
Ambassador Högberg spoke about how the Swedish government had spent 60 years working to change the culture in Sweden to prepare for the current parental leave system, and that the system succeeded because it is built on the premise of the entire family living a happy and enjoyable life.
Japan has a male childcare leave-taking ratio of less than 10%, which is very low, and many obstacles still remain in trying to raise that number, but the Sekisui House Group will continue to promote Ikumen Leave to encourage male childcare leave to become the new norm for Japanese society.
Action policies ②
Becoming a company at which all employees can work and lead vibrant lives
Support for better health and medical treatment


→ Opportunities provided for improving mental and physical health
Promoting health management
To become the world's happiest company, our employees must all be able to lead healthy, vibrant, and fulfilling lives both on the job and at home. Understanding that good health management among employees will contribute to the growth and sustainability of the company, we have established health management policies and are working to reduce overtime hours, encourage more employees to take paid leave, and promote better employee health overall. Sound physical health and mental health are both vital to active, effective work. Aiming to deepen awareness of health on those two fronts, especially the mental side, we conduct training programs for managers and employees in their second and third years. We also organize regular meetings of the CSR Committee, which includes four representative directors, other internal representatives, and two experts from outside the company. Under the CSR Committee is the Social Improvement Committee, a group that focuses on the health management component, taking measures to encourage exercise, utilizing health checkup results for improving lifestyle habits, and establishing separate areas for smoking while discouraging people from smoking, for example. In fiscal 2020, based on the company's efforts to address local health issues and promote the health initiatives of the Nippon Kenko Kaigi (Japan Health Council), we have been certified as a "White 500" corporation by the Ministry of Economy, Trade and Industry, commended for our good health management practices. We plan to continue building good mental and physical health through progressive action to foster a happy approach to life in the era of 100-year life.
Start of a Walking Challenge
In February 2019 we began a Walking Challenge, an initiative aimed at promoting health through lots of walking. The company now offers an original app, Sekisui House FIT, to record one's steps as a way to become more aware of daily exercise and to have fun competing with other employees and departments. The participation rate in the Walking Challenge increased from an initial 52% of employees to 73% in January 2020, and the average number of steps taken by participants has increased by about 400 steps. A survey of participants revealed that 60% feel that they have "become more aware of staying healthy than before" and 44% feel that their "communication with others at the company has increased." Such results will lead to greater health awareness and a more engaged workplace atmosphere.
AI-assisted health risk analysis and genetic testing service launched
In February 2020 we introduced AI technology to analyze and predict health risks from health checkup results. Laboratory data was extrapolated three years ahead for each employee, and simulations are used to show how changes in a person's lifestyle habits could affect their health indicator readings. Also, a service for periodic genetic testing was launched with voluntary participation to ascertain one's risk level for a number of diseases associated with lifestyle habits, aimed at improving those habits and avoiding illness.
Support system for living with cancer or infertility treatments while working
In 2019, Sekisui House introduced a support system that makes it possible to work while managing an illness or while getting outpatient treatments for a medical condition. For employees undergoing treatment for cancer or infertility, we have instituted a system that allows for shorter working hours, staggered hours, or working from home to allow the employee to work and get treatment at the same time. The system now allows employees to take accrued annual leave in half-day units, previously only allowed for a minimum of three consecutive days off. It is also possible to choose to take three days off per week (with work days and hours dependent on the diagnosis of the attending physician).
Issues related to health management, impact on corporate management and action policies
One important health issue that has been identified as affecting the ability to draw out the top performance of employees is the obesity rate of men aged 40 and over, with roughly half in the age group at a heightened risk of lifestyle-related ailments.* Improving the state of health in men in this age group, who are likely to be in positions of management, will lead to even more sustainable management. Discussions were thus held in the ESG Promotion Committee (formerly the CSR Committee), the Management Committee, and other forums, and it was decided to set the health management goal of eliminating the common causes of lifestyle-related ailments that lead to the three major illnesses (cancer, heart disease and stroke). Several steps are being implemented to achieve this goal. The first is achieving full compliance among employees to undergo a health check, along with a 100% rate of undergoing a second health check if indicated by the results. Additionally, we introduced a system that employs AI to analyze risks for each person three years on from the health check, accompanied by simulations based on changes made in the person's lifestyle, in order to improve lifestyle habits. We also had an original health app developed to provide regular feedback on the average number of steps taken daily by each individual and workplace, with an exercise goal to maintain an average of 7,000 steps per day.
* If the waist measurement is at least 85 cm or the BMI (body mass index) is 25 or higher
Health Management Goals (Sekisui House non-consolidated)
Priority Measures

FY2017

Results

FY2018

Results

FY2019

Results

FY2020

Results

FY2021

Targets

FY2022

Targets

Stress check examination rate

94.5%

92.4%

92.7%

93.2%

94.0%

95.0%

Health check examination rate

100.0%

100.0%

100.0%

-

100.0%

100.0%