Pursuing Customer Satisfaction through Our Value Chain Activity report ③
Enhancing production and distribution quality and improving operational efficiency


Utilizing AI, IoT and big data

→ Improved production efficiency and reformed workstyles
Semi-automating combined processes to boost production efficiency
Sekisui House commits resources to making labor-saving improvements to our facilities in order to boost productivity while maintaining high quality. We had already improved the processes that combine multiple building components at the factory in advance to improve work efficiency at construction sites, but in 2019 we began looking into building semiautomated lines. We are making significant improvements to labor-intensive processes such as combining wall frameworks with exterior walls and window sashes, for example, or attaching metal fittings to columns and beams to build a wood-frame house.
We continue to automate all of our Japan-based factories and have already introduced a total of 540 robots to perform handling, welding, and other functions. We are also rolling out smart systems that take advantage of AI, IoT, and big data. We plan to utilize the data obtained from these facility improvements to further expand our semi-automated lines.
In-factory logistics visualization system improved by sharing component flow information
At our Shizuoka Factory we built the "Jobca" logistics visualization system, which has improved efficiency, quality, and response timeliness of loading work from manufacturing to shipping. Prior to implementation of the system, paper was used to confirm information–numbers of components manufactured at the factory and components supplied to the factory, or compiled data on delivered product by type. The introduction of a more streamlined system that employs PCs, iPads, and 2D barcodes that leverage IoT tech has greatly lightened the load for workers and reduced losses, while enabling high-efficiency, high-quality loading work.
In addition, the utilization of cumulative data has sped up the Plan-Do-Check-Act cycle, which has contributed to significant reductions in truck waiting times at factories. As a result, a number of improvements were made–about 170 person-hours per month cut, the number of trucks waiting over two hours at a factory cut to zero, 90% of errors in loading eliminated, more jobs standardized to allow anyone to do them, and overtime hours reduced. The system is now starting to be implemented in other factories.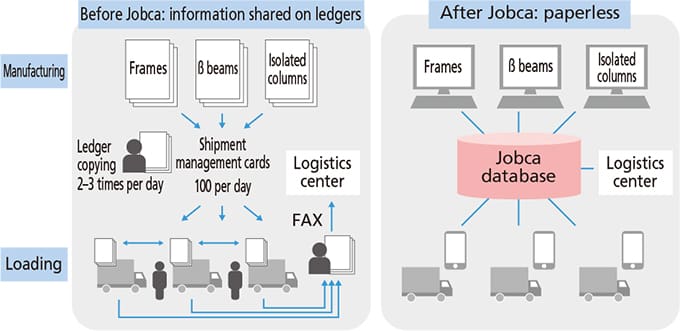 Boosting production efficiency with AI technology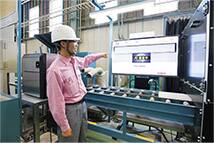 On the production line of our Bellburn ceramic exterior wall panels we introduced a quality management system that employs image-processing-specific AI technology. The system enables the management of conforming output in real time, which has resulted in higher production efficiency, better quality management, and reduced inventory.
We have also introduced a smart system that makes excellent use of IoT, big data, and AI in the steel beam production lines of our ß System, a construction method for three- to four-story steel-frame houses. This smart system makes it possible to automate adjustments to our production volume and work scheduling that previously required the expertise of supervisors. The system has also increased operational efficiency and contributed to power savings.
Strengthened production of original exterior-wall components
Dyne Concrete, a component of our highest quality lightweight steel-frame "IS Series" two-story housing product and the Bellburn ceramic exterior walls on our SHAWOOD woodframe detached homes are original exterior-wall components produced by Sekisui House. These components are unique in that they are beautifully designed as well as water resistant, weather resistant, and highly durable. We are planning to incorporate AI and other cutting-edge technologies, automate the production line, and strengthen system development to further boost manufacturing yield and improve quality.
Improving the work environment at production factories
We carry out essential health and safety management at each of our factories in an effort to prevent accidents or health problems that might occur during work operations. We work to assure the safety and health of our employees, and endeavor to create a comfortable work environment, facilitate smooth work, and improve productivity. Health and Safety Committee meetings are held once a month, along with quarterly Production Department Health and Safety Promotion Council meetings, at all factories, to share information regarding the current condition of each factory, specific areas for improvement, and our vision for the future.