Sustainability Vision 2050
Initiatives Targeting 2050
In 2008, the Sekisui House Group announced Vision 2050 with the aim of eliminating CO2 emissions attributable to housing. As a result, we quickly shifted our management focus to decarbonization. In FY2016, during a time of changing demographics and rapid technological innovation, we released Sustainability Vision 2050, our long-term vision for 2050 that prepares for future environmental changes across a wider range of business domains. In FY2017, we announced mid-term initiatives for 2030 in order to publicize our progress to stakeholders who are interested in the group's achievement of long-term value. In FY2019, we further clarified our society-centered goals by dividing them into two aspects: a diverse society and an advanced, healthy and long-lived society.
Sustainability Vision 2050
Leading the Way to a Decarbonized Society
Climate change attributed to global warming is beginning to have a visible impact on our lifestyles. Secure, high-quality lifestyles will realize a sustainable society that is not dependent on fossil fuels or constrained by energy problems.
2050 Challenge Objectives
Zero CO2 Emissions within the Housing Lifecycle
As a leading company in housing products, we will eliminate CO2 emissions from the entire housing lifecycle, from the purchase of materials to manufacturing, sales, occupancy and demolition, including renewable energy usage.
Main Actions Taken

Announced the Eco-First Promise (2008)
Launched the Green First model of eco-friendly homes (2009)
Launched Net Zero Energy House Green First ZERO (2013)
Paris Agreement Compliance Declaration (2015)
Joined RE100 international initiative (2017)
TCFD Report published (2019)

2030 Goals
Achieving SBT Goals
With the goal of achieving zero CO2 emissions throughout the housing lifecycle, we aim to reduce emissions by 50% for Scope 1 & 2 and 45% for Scope 3 (category 11: Housing) compared to FY2013 (SBT goal). Also, as a RE100 member company, we will ensure that 50% of the electric power consumed by our business activities is from renewable energy sources.
Main Corresponding SDGs
Measures for ESG
Leading the Way to Society in Which Humans and Nature Coexist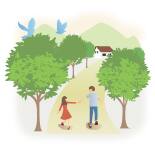 Rich natural networks contribute to the protection of biodiversity and alleviate climate change, contributing not only to the protection of ecosystem services that support our lifestyles, but also to improving the quality of people's lifestyles and strengthening connections between people. We will maximize this network function to realize coexistence between humans and nature.
2050 Challenge Objectives
Maximizing Ecosystem Networks through Business
We will procure 100% FairWood products to realize Zero Deforestation, which is linked to the destruction of ecosystems. We also aim to become Japan's number one corporation in terms of urban greening contributions, intelligently utilizing green infrastructure functions such as ecosystem conservation, disaster prevention/reduction and comfort through green housing construction and community development.
Main Actions Taken

Launched Gohon no ki indigenous landscaping project (2001)
...Total number of trees planted: 16.11 million (2019)
Formulated Wood Procurement Guidelines (2007)

2030 Goals
Leading the Mainstreaming of Biodiversity
Regarding the number of trees planted under the Gohon no ki indigenous landscaping project, which proposes the planting of mainly native tree species in consideration of local ecosystems, we will maintain the pace of planting 1,000,000 trees each year and promote further expansion of urban greening while also aiming for 100% procurement of sustainable FairWood fair lumber products for use in all standard Sekisui House homes.
Main Corresponding SDGs
Measures for ESG
Leading the Way to a Circular Economy
Amid increasing demand for resources and energy in line with the growing world population, we will work toward a circular economy that uses recycled resources sustainably without depending only on natural resources, through technological and economic system innovations to enable all people to live a stable lifestyle.
2050 Challenge Objectives
Expanding Zero Emissions Initiatives within the Housing Lifecycle
To cultivate housing as a quality asset, the Sekisui House Group provides remodeling and renovation services that are matched to living styles and societal changes. To deal with the waste generated from these activities, we will expand our industry-leading zero emissions initiatives to realize zero emissions at the social infrastructure level through industry alliances.
Main Actions Taken

Initiated the Zero Emissions Project (2000)
Achieved zero waste emissions at all our factories (2002)
Achieved zero waste at each stage of production, including new home construction, and after-sales maintenance to remodeling (2005–2007)
Transitioned to a next-generation system compatible with big data utilization (2017)

2030 Goals
Recycling Business System Development Acceleration
We will expand the targeted scope of the Wide-Area Certification System, a special system of the Waste Management and Public Cleansing Law, which Sekisui House was first to acquire in our industry, while enhancing support for housing stock-related businesses. At the same time, we will accelerate the use of IT technologies, increase the accuracy of waste recovery management and electronic management systems mainly using cloud computing and promote efficient and smooth management.
Main Corresponding SDGs
Measures for ESG
Leading the Way to an Advanced, Healthy and Long-lived Society
We committed ourselves to providing safe, secure, and healthy housing according to guidelines for creating abundant housing focused on people and the environment and to solving regional issues at the global level. As a developed country with a mature and aging population, we aim to contribute to a society in which everyone can live in good health with pride.
2050 Challenge Objectives
Contributing to Health and Longevity through Housing Development
We will contribute to the development of high-quality social assets by establishing a rich living environment and local communities that can continue to live in safety, security, and comfort. We will develop the intangible assets of health, connection and learning while creating houses that contribute to a long-lived society. In the process, we aim to eliminate domestic accidents in the houses we provide by employing our advanced technologies.
Main Actions Taken

Built Japan's first model house for people with disabilities (1981)
Defined lifelong housing as the ideal for Sekisui housing construction (1989)
Established Sekisui House Universal Design (2002)
Instituted Smart Universal Design in pursuit of comfort as well as safety, security and ease of use (2010)
Launched the Airkis high-quality indoor air system (2011)
Began research on happy living (2018)
Introduced the Platform House concept (2019)

2030 Goals
Creating Value with Respect to Social Issues
We aim to continue playing the role of a housing provider in the interests of an advanced, healthy, and long-lived society. In particular, we will contribute to the contentment of centenarians by focusing on intangible assets such as health, connection and learning, as well as tangible assets such as structures, interiors and environment-friendly products. In short, we are helping to build homes that add to health and longevity.
Main Corresponding SDGs
Measures for ESG
Leading the Way to a Diverse Society
We aim to create a sustainable society by driving innovation while allowing diverse individuals from around the world to have a positive impact on one other.
2050 Challenge Objectives
Contributing to a Society in which All can Demonstrate Their Individual Abilities
We will provide opportunities and create an environment in which diverse groups of people can make the most of their individuality. Through innovation and communication, we are creating value in society in diverse ways.
Main Actions Taken

Announced Human Resource Sustainability (2006)
Launched Sekisui House Women's College, a training program for promising female management candidates (2014)
Initiated Diversity Exchange events (events for employees with disabilities; 2015)
Formulated a health management policy (2018)
Introduced the Ikumen Leave program (2018)
Introduced the Heterosexual Common-law Marriage and Same Sex Partnership Personnel Registration System (2019)

2030 Goals
Sustainable Growth Through Diversity & Inclusion
As a leading company committed to ESG principles, we are implementing management that can make the most of the unique abilities of all individuals including women, people with disabilities, the elderly, foreign nationals, and members of the LGBT community. We are raising awareness of and promoting diversity by publicly disclosing the results and challenges of our management initiatives.
Main Corresponding SDGs
Measures for ESG