Pursuing Customer Satisfaction through Our Value Chain Activity report ⑤
Providing long-term support for customer lifestyles and maintaining and improving housing property value


Support and renovation based on advanced technologies
→ Ensuring customer satisfaction and building a market for quality housing stock
Enhancing our initial 30-year warranty program, U-trus System, and housing history information database Ie-Log
Sekisui House offers an initial 30-year warranty program (for contracts signed starting April 1, 2018) that covers the structural framework and any parts used to prevent rainwater leakage. This program provides 20 years of warranty on top of the 10-year defect liability period required under the Housing Quality Assurance Act. In addition, all other parts are under warranty for a specified period of time. Even after the warranty period has expired, homeowners can take advantage of our unique U-trus System to extend warranties in 10-year intervals.
We also operate Ie-Log, a database that shares digital information concerning the various building components of each property and other data. This is based on the Long- Life Quality Housing Certification Program in Japan, which aims to build up a stock of high-quality housing that can be used in the long term. Group companies utilize the historical data accumulated through Ie-Log to propose remodeling and renovations.
Smart Inspection system allows remote appraisals
During periodic inspections, high-resolution images are supplied by a drone, underfloor inspection robot, and attic inspection robotic camera. The images are uploaded to the cloud and dedicated staff on standby at our office support desk can quickly determine if any defects exist. This new type of inspection system for detached homes that we have dubbed "Smart Inspection," went online in August 2019. It will be rolled out at 29 Customer Service Centers across the country one by one.
The equipment can easily be controlled remotely by smartphone or tablet from any location. Because an inspector does not have to climb to a dangerous height or crawl under floors, the system improves the work environment for our employees. This means that inspection work can be done by women or seniors, expanding work opportunities in a way that will help mitigate the construction industry problem of labor shortages and an aging workforce.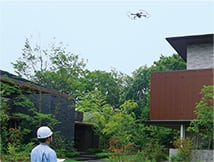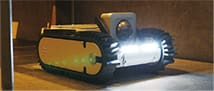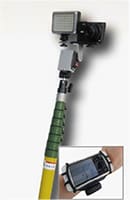 Family Suite Renovation New living proposals for existing houses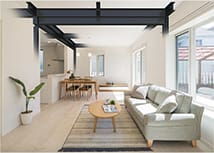 Our Family Suite concept for newly built houses proposed a new mode of living. Family Suite Renovation is a system begun in September 2019 that is adapted for existing houses. Many of the existing houses we have built use a lightweight steel frame. Our newly developed RF Support Beam System allows structural columns to be removed to renovate a house by converting compactly partitioned areas into a large living room space. In so doing, the asset value of the house is maintained and improved.
Life Step System gives back to customers
With the aim of extending the longevity of a house by providing extended after-sales support, we have been able to increase our contact with a large number of owners, and this leads to the building of a solid client base.
Including renovation work done since February 2019, for every interaction with the Sekisui House Group, a homeowner earns a number of "steps" and is issued "Life Step System tickets" that can be used, when a certain number are accumulated, for renovation discounts or in other ways.