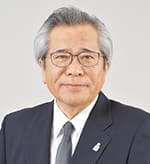 The year 2019 marked a transition in Japan to a new beginning; as the name of the historical era changed from Heisei to Reiwa, we focused our attention on the dawn of a new age in our country.
At the same time, however, we had to accept that the dawn of a new year also brought tremendous damage caused by record-breaking rains from powerful typhoons that struck the Boso Peninsula and other parts of Japan. It is suspected that global warming is beginning to have a major impact on our lives in the form of abnormal weather events. Clearly, these types of natural disasters can lead to supply chain disruptions and other business risks. We have come to realize once again that proactive efforts to address non-financial issues in the environmental field, including countermeasures targeting climate change, will significantly support the sustainable growth of companies.
Among our measures to fight climate change, we are actively promoting the widespread adoption of the ZEH standard, which aims to achieve a zero energy balance in the dwelling phase. In FY2019, the ZEH ratio of newly built detached homes we supplied reached 87%, and we were able to achieve our target rate of 80% in FY2020 ahead of schedule. In addition to the benefits of increased energy efficiency,the ZEH standard is highly resilient because it provides comfort and economy and can be powered with solar cells, fuel cells, and storage batteries even during power outages. We believe our excellent track record in this area is attributable to customer appreciation of the added value these amenities provide. We are promoting net-zero energy consumption in rental housing and non-residential buildings as well by taking advantage of the expertise we have gained from building detached houses.
Regarding ESG investment, which evaluates the long-term growth potential of companies, we have become the first non-financial private enterprise in Japan to provide institutional investors with TCFD reports, which provide financial information and analyze the risks and opportunities posed by climate change.
In fiscal 2020, we will continue to create sustainable value by "making home the happiest place in the world."
Improvement in sociability
With a commitment to "making home the happiest place in the world," we remain focused on addressing social issues through housing. As a concrete measure to ensure the contentment of our customers, employees, and our communities, we are developing technologies that pursue health in addition to safety, security, and comfort through the fusion of tangible (technologies) and intangible elements. At the same time, we are maximizing customer satisfaction throughout the value chain. With regard to employee contentment, we are strengthening initiatives such as promoting diversity, reforming workstyles, and developing human resources in addition to gradually developing content for health management. In the summer of 2020, we are launching a program of AI-based risk analysis of health checkup results and lifestyle improvement simulation programs. Our goal is to raise awareness and improve the health literacy of all our employees.
In terms of addressing the contentment of our communities, we are solving social issues such as the declining birthrate and aging population through proposals such as nursery schools and nursing homes; specifically, we are specializing in four policies: nurturing the next generation; protecting the environment; improving housing culture; and preventing disaster and providing disaster relief. In response to these policies, the Sekisui House Matching Program, a joint donation system for employees and companies that meet these policies, supports the implementation of programs by nonprofit organizations and functions in cooperation with our offices.
In April of this year, we established a human rights policy grounded in our corporate philosophy.
As we work toward the emergence of a sustainable society, we will continue to enhance our corporate value by meeting the expectations of our various stakeholders as they expand globally.
ESG investment is now in excess of 3,000 trillion yen and is considered a driving force for corporate growth. With regard to the governance aspect, we have positioned 2018 as the First Year of Governance Reform and have begun implementing steps to strengthen our corporate governance. We have implemented 17 reforms from the top management level to the business management level and are continuously working to further improve them. These reforms include improving the independence of the Board of Directors and reviewing the term of office of the Representative Director.
Moreover, in order to strengthen the governance system, it is important to promote the creation of an open workplace culture. The Governance Committee under the CSR Committee promotes a more open atmosphere in three phases: top-down, up and down from the middle, and bottom-up. In addition to promoting the permeation of, and raising awareness of, governance compliance under the slogan "Innovation & Communication," we are nurturing the next generation of talented individuals who represent one of the foundations of our growth.
In October 2019, Konoike Construction Co., Ltd. became a subsidiary; as a result, the number of group employees both inside and outside Japan has grown to 27,000. As we prepare to celebrate our 60th anniversary in August 2020, we are dedicated to making this year one in which every Sekisui House Group employee understands and acts on the essence of our corporate philosophy and ESG management.
In addition to publishing this Sustainability Report, we have decided to issue a new Integrated Report in 2020 with enhanced information for investors. As the individual responsible for the Investor Relations Division, I will continue to increase transparency and the timeliness of our information disclosure. Moreover, when designing media, we will strive to reflect the Sekisui House Group's efforts to contribute to the emergence of a sustainable society using a structure that is more conscious of the target audience.