Decarbonized SocietyAction policies ① Expand net-zero energy housing (ZEH)

Ratio of new detached houses classified as Green First ZERO →

90% by 2022
87% of our new detached houses are ZEH, for a cumulative total of 51,793 units.
Our Green First ZERO (ZEH) homes demonstrate a high level of comfort, economy, and environment-friendly design. In FY2019, 87% of our detached houses were ZEH. As a result, we reached our FY2020 target of 80%*1 ahead of schedule. This result is far higher than the ZEH ratio of 13%*2 achieved in Japan in FY2018. Since we launched this initiative in 2013, we have attained a cumulative total of 51,793 ZEH units (as of March 31, 2020), which represents the highest total in the industry in Japan.
We have implemented various initiatives to promote the benefits of ZEH, including tours and regular seminars at exhibition halls and at our Sumai-no-Yume-Kojo Centers. By developing the necessary technologies, we have provided solutions in cases where barriers to ZEH conversion exist. For example, ZEH standards require the installation of highcapacity solar panels, but securing the required capacity with general large-format panels is difficult on roofs with complicated shapes due to the circumstances of the site or the building design.
For this reason, we have developed a proprietary tileshaped solar panel that allows for the installation of many panels on a roof with a complicated shape. In addition, the panels are inconspicuously integrated with the existing roof tiles, so the exterior appearance of the building and the surroundings are considered in the installation. In addition, in three- and fourstory residences, which are increasing in popularity mainly in urban areas, columns are used to provide direct support for the roof. Moreover, because solar panels are required for ZEH conversions, we have developed large roofs that provide the necessary support regardless of the building configuration.
By solving such difficult challenges with technology and by highlighting the various benefits of ZEH design to our customers, we are continuing to promote adoption of the ZEH standards through our Green First ZERO initiative with the goal of reaching a ZEH ratio of 90%.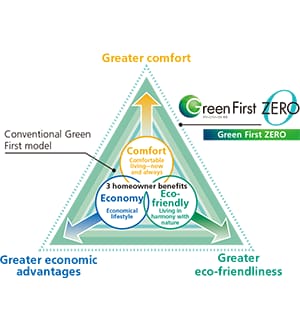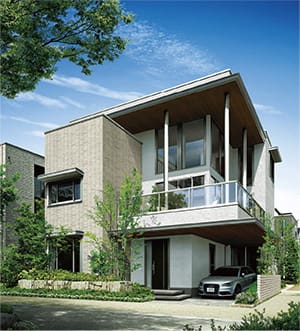 ZEH diffusion target required for ZEH builder registration at the Sustainable open Innovation Initiative (SII). Registrants were required to set a target of at least 50% by 2020; we adopted a target of 80%.
Result published at the Net-Zero Energy House Support Project Survey Presentation 2019
We aim to build zero energy houses by improving insulation and installing energy-saving equipment, in addition to using photovoltaic systems and other advanced energy-generating equipment.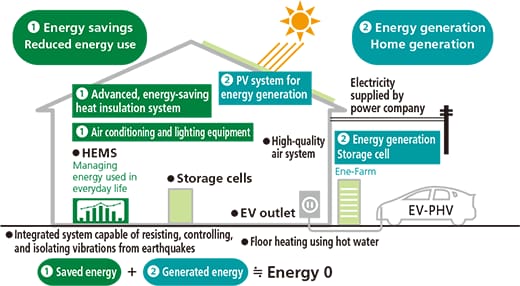 Growth in the number of Green First ZERO (ZEH) homes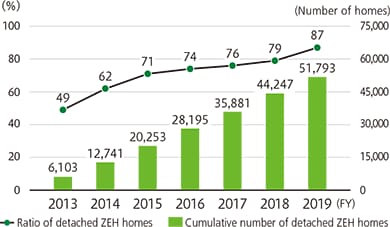 Our Sha Maison ZEH rental housing offers 447 units in 58 buildings.
About 30% of the CO2 emissions attributable to the residential sector are emitted from multi-unit housing complexes, and rental housing accounts for a large portion of this. Clearly, the conversion of rental housing to ZEH standards is an essential aspect of the trend toward decarbonization. By utilizing the expertise we gained through the construction of detached houses, we managed to complete our first rental housing units in January 2018 in which all residential units are fully ZEH.* This project, under our Sha Maison rental house brand, was constructed in Kanazawa Japan. Since then, we have been increasing the number of ZEH rental units across Japan, from Hokkaido to Kyushu.
Two types of ZEH standards apply to multi-unit housing complexes: ZEH-M, which applies the net-zero energy standard to the entire residential building, including common areas; and ZEH, which applies the net-zero energy standard to the individual housing units, in the same manner as detached housing.* While the ZEH-M standard substantially reduces CO2 emissions from the entire residential complex, the individual units do not have to meet the ZEH standard on their own. We place significant emphasis on highlighting the benefits of our rental housing to prospective tenants, and we are working to popularize ZEH-M, which satisfies all ZEH requirements. ZEH residential units offer the many benefits of the ZEH standard, such as the comfort provided by high levels of thermal insulation, reduced utility costs, and the sense of security that comes from knowing that electricity will continue to be supplied in the event of a disaster. When those living in ZEH units voice their high praise of the results, we are confident that demand for ZEH residential units will rise,
leading to an increase in the number of ZEH residential units in the market, thus helping to address the climate change issue.
In fiscal 2019, we supplied 58 ZEH-M buildings and 447 ZEH dwelling units for a cumulative total of 103 buildings and 691 dwelling units.
We will continue to strive to popularize ZEH rental housing, which offers value to tenants, building owners, and the environment.
Illustration of ZEH multi-unit residence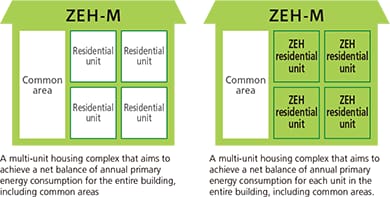 For a multi-unit housing complex, four types of ZEH standards are defined depending on the difference in energy efficiency. ZEH is the most effective standard, as it is capable of reducing primary energy consumption by 100% in balance. In contrast, Nearly ZEH represents a 75% reduction in CO2 emissions, ZEH Ready represents a 50% reduction, and ZEH Oriented represents a 20% reduction. In addition, ZEH-M and ZEH differ in their definitions of evaluation targets, which are "residential building" for the former and "dwelling units" for the latter.
[Based on the definition of ZEH for multi-unit housing revised on March 2019 by the Agency for Natural Resources and Energy.]
Construction of a super-high-rise ZEH condominium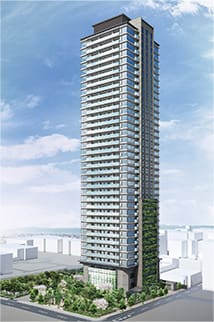 We are also promoting condominiums built to ZEH standards. In February 2019, we completed construction of Grande Maison Kakuouzan Kikuzakacho in Nagoya. This is Japan's first condominium complex to meet the ZEH standard. It has been considered difficult to build multi-unit housing complexes to ZEH standards because of the small rooftop area available for installation of solar panels compared relative to the large number of housing units in the structure. This is a low-rise condominium with only 12 units, however, so it offers sufficient rooftop area.
On the other hand, with respect to high-rise condominiums on which solar panel installation is difficult, Japan has defined and promoted the ZEH Oriented standard, which provides for as much energy-efficiency as possible without the installation of solar panels. For this reason, in fiscal 2019, we broke ground on Grande Maison Uemachidai The Tower PJ in Osaka City. This is a 36-story super-highrise multi-unit condominium complex in which all dwelling units meet the ZEH Oriented standard. In order to improve energy efficiency, we have equipped all units with highefficiency air conditioners as well as fuel cells that generate electricity for hot-water supply. One appeal of super-high-rise condominiums is the view from the large windows; however, increasing the area given over to windows, which have inferior thermal insulation performance compared to walls, is a disadvantage when attempting to meet the ZEH standards. However, we have achieved comfort levels equivalent to ZEH while also offering the views available with large windows by specifying high-performance vacuum double-glazed windows and by providing additional thermal insulation in each unit. In fact, the insulation levels exceed the energy-efficiency standards of Hokkaido in chilly Northern Japan.
We will continue to promote ZEH standards with consideration for the unique added value they offer for condominium dwellers.

Net-zero energy standards for commercial buildings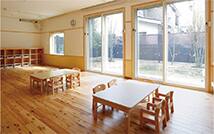 ZEB, like ZEH, is a net-zero energy building standard that the government is encouraging the construction industry to adopt. The buildings targeted for ZEB have a variety of uses, and a unique ZEB design is required for each application. Sekisui House is focused on promoting ZEB designs employing the Flexible β System, a highly insulated structural skeleton similar to that used in detached houses and Sha Maison rental housing. Utilizing the technology and expertise we gained in the ZEH field, we offer ZEBs that incorporate innovations inspired by energy simulations for business buildings, energy consumption surveys, and questionnaires of facility users. To date, we have a track record of constructing office buildings, nursing facilities, and childcare facilities to the ZEB standard.