A company highly responsive to the effects of climate change on future generations and society in general
The Sekisui House Group is committed to mapping a path forward.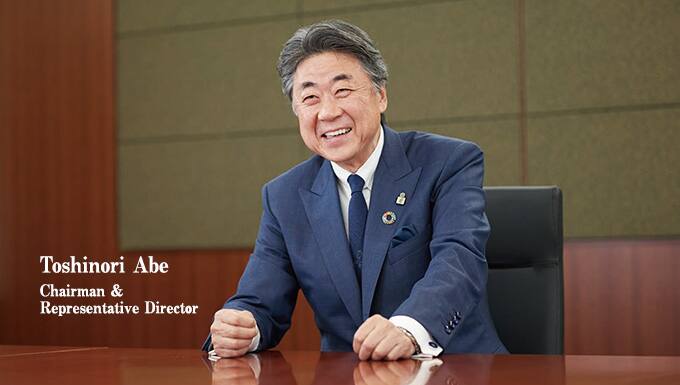 The role and mission of housing in addressing social issues
To those who lost family and friends to COVID-19, the novel coronavirus, we extend our deepest sympathies and most sincere condolences. To the many individuals whose lives were severely disrupted by the disease and to everyone suffering hardship due to the spread of the infection, we offer our thoughts and support. We would also like to express our gratitude to the medical professionals and first responders who are providing care under such difficult conditions, as well as those who are working under challenging circumstances to maintain the supply of essential goods.
Rest assured that the Sekisui House Group places the highest priority on the safety of its customers, business partners, stakeholders, and employees. Working in cooperation with public health officials and local governments, we are implementing all necessary countermeasures to minimize the spread of the infection.
For the world of politics and the global economy, of which Japan is a part, the dawning of 2020 was expected to mark a major turning point in the very structure of society itself. In the midst of this situation, however, the world suddenly fell under the threat of the novel coronavirus. How this continuing peril will ultimately affect our lives and our economies going forward cannot be anticipated with any degree of certitude. Society has had to respond with new approaches, such as changing social interactions due to requests to practice social distancing as part of the measures to prevent the spread of infection. At the same time, however, we must take urgent measures to protect against largescale natural disasters and the impacts of climate change that are occurring frequently in various parts of the world. Clearly, 2020 has marked a turning point, but the nature of the change is quite different from what we had imagined. In addition to focusing our efforts on implementing antivirus measures, I believe that we need to engage in a fundamental rethink of our entire approach to housing, our relationships with our customers, and all that we do.
For years, much discussion has centered on the economic ripple effect resulting from housing construction. Furthermore, when we consider disaster preparedness initiatives such as the adoption of seismic resistance measures and their relationship with human life and our health, it is clear that the mission and scope of the housing industry should expand in many respects.
The value of housing is said to lie in its role in underpinning human contentment, which in turn leads to improved national welfare as well as a stronger economy. The construction of highquality housing contributes to the safety, security, and happiness of the populace and represents essential social capital; it must not be impeded by taxation or economic trends. Now more than ever, the need exists for national policies focused on accelerating the development of quality housing that will maintain its value for posterity.
At the same time, housing is very closely related to climate, and every nation on earth is gaining a growing awareness of climate change. As the Paris Agreement comes into effect and provides a long-term scenario for establishing a decarbonized society, the Sekisui House Group in 2018 was among the first to support a proposal by the Task Force on Climate-related Financial Disclosure (TCFD) to disclose its financial impact on climate change. In December 2019, we issued a TCFD Report that exposed the risks and opportunities together with our financial information. This put us at the top of the 141 non-financial companies on the list of participating domestic companies and institutions.
At Sekisui House, which places sustainability at the core of its management approach, we introduced our Environmental Future Plan in 1999; in 2008, we declared our 2050 Vision aiming for zero carbon dioxide emissions attributable to our housing throughout its lifecycle. Specifically, we registered concrete initiatives to guide our transformation into a decarbonization business. In 2017, we became a member of RE100, a global corporate leadership commitment to shift the energy we consume in our business to 100% renewable electricity sources. Currently, 87% of our new detached houses are rated as ZEH (Net Zero Energy House), bringing the cumulative total to 51,793 houses and placing us at the top of the world's ZEH providers. As a pioneer in environmental management, we are driven to continue taking on challenges to realize the decarbonization ideal, as a house is a structure with a long lifespan with which the residents maintain a close relationship. Our singular mission is to grow our business soundly and continue to increase our profitability. At Sekisui House, a housing company with the world's largest customer base, we are determined to implement further measures as a company most sensitive to climate change, a risk that could threaten our business continuity.
Two years ago, I participated in the 24th Conference of the Parties to the United Nations Framework Convention on Climate Change (COP24) held in Katowice, Poland. There, I was able to observe the state of progress in renewable power generation in various countries, and I came to realize that Japan has fallen behind in this regard. This state of affairs eventually become widely recognized when it was reported that Japan had been given the satirical "Fossil of the Day" award at COP25 last year. Japan, a member of the global community, has a role to play and responsibilities to meet in the critical housing industry. The Sekisui House Group shares a sense of crisis with concerned citizens around the world and seeks to further raise Japan's environmental awareness through our approach to housing development. In an effort to contribute to the emergence of a decarbonized way of life, we will continue focusing on the development of new technologies and value propositions.
The housing industry's increasing focus on safety and security
It has now been 25 years since the Great Hanshin-Awaji Earthquake, and next year will mark 10 years since the Great East Japan Earthquake, which I myself experienced while on a business trip to the city of Sendai. We need to remember our experiences of these disasters and value the lessons we learned from them.
We are all aware that natural disasters can occur anywhere at any time, and Japan has gained a critical awareness of disaster preparedness. The seismic performance of new houses has improved dramatically, as demonstrated by the SHEQAS seismic absorption system that Sekisui House developed. However, the critical issue is that about nine million homes in Japan still do not meet the new seismic resistance standard, which is defined as reinforcement sufficient to resist collapse even at a seismic intensity of 6 to 7. Resolving this issue through improvements remains an important social issue and a major challenge for the housing industry.
Looking at the energy saving standards for homes, data reveal that nearly half of all houses, or about 22 million of the houses in Japan, have not yet reached the standard. Improving the energy-efficiency of houses is now considered an urgent issue at the national level. Apart from the energy-efficiency aspect, we must not overlook how much thermal insulation and airtightness contribute to the quality of life and health of the people living in the house. Recently, a growing focus has been placed on health problems such as heat stroke in the summer and thermal shock sparked by sudden temperature differences in houses during the cold winter months. "Cool in summer and warm in winter" is a phrase reflecting the growing awareness of the importance of efficient cooling and heating for maintaining home comfort. This, along with improved seismic resistance, is now recognized as a fundamental issue for ensuring high-quality housing stock and a good living environment.
Housing and the housing industry alike are becoming more Message from Management Toshinori Abe Chairman & Representative Director sophisticated and are playing a more varied role in our lives. Sekisui House, which has been researching barrier-free designs and applying them since the 1970s, is currently promoting Smart Universal Design, our unique effort to drive the evolution of this field with greater consideration given to comfort that resonates with all five senses. SumStock, a distribution system for existing housing stock led by the Sekisui House Group, is a related initiative that holds the key to transforming housing toward the emergence of a society focused on maintaining quality housing stock.
Solving social issues and achieving goals
Sekisui House celebrates its 60th anniversary with positive financial performance and is grateful to all who helped make this possible. This milestone is the result of the significant structural reforms we implemented on our 50th anniversary, a time marked by the very challenging economic environment resulting from the global financial crisis of that time. One of the main pillars of that initiative was our effort to strengthen group collaboration. Eliminating barriers within our group enabled us to strengthen our organizational reforms and our renovation business. In February 2020, Sekiwa Real Estate was reorganized as Sekisui House Real Estate under SEKISUI HOUSE noie, which was established as Sekisui House's second brand for selling new houses of wood construction.
Through the diversified strengths of the entire group as a whole and its cohesiveness and comprehensive strength, we have expanded our multifaceted points of contact with society with a focus on our housing-related businesses. Furthermore, we are strengthening our collaborative efforts in order to further integrate our group. As a result, our social responsibility is becoming more demanding and the scope of our responsibility is expanding.
Sekisui House Group is entering a new era. Our 5th Mid-term Management Plan incorporates a policy of strengthening our core business while taking on the challenge of developing new businesses. In 2018, we further expanded the governance reforms that we launched with six items. In 2020, we launched and implemented a total of 17 initiatives, including seven that included a significant review of the executive compensation system; the formulation of standards and procedures for hiring and dismissing management executives; and improvements to the independence of the board of directors. We intend to further improve our governance reforms as we proceed in a steady and gradual manner so that the various institutional reforms we have introduced are well reflected in our organizational reforms. We will continue to focus on fostering an organizational culture that cuts across both the top management and business management levels as we strengthen our group governance structure inside and outside Japan.
The task of a corporate leader is to pursue profits, to nurture the next generation of leaders, and to enrich employees and society. Their task also entails the creation of an environment in which our employees can work comfortably in the exciting and vibrant workplace promoted by the Sekisui House Group. By multiplying these initiatives, we will develop as a good corporate citizen capable of earning the trust of all stakeholders. This is my ideal.
The mindset required for this effort is to focus not "for me" but "for you." I talk to our employees on a regular basis, and I emphasize that the "for you" mindset is necessary if we are to achieve the sustainable development goals or SDGs, which are universal. Solutions to social issues cannot be achieved by a single company, and collaboration among companies and society is essential. Companies are not self-centered, and as a company on which society depends, we must implement our solutions with empathy for others. The corporate philosophy of the Sekisui House Group mirrors the meaning of "love of humanity"—in short, we develop homes and environments that are rich in their human aspect. We will do what we can do humbly and honestly, and the entire group will continue to meet challenges with a unified spirit and a broad outlook on the world.